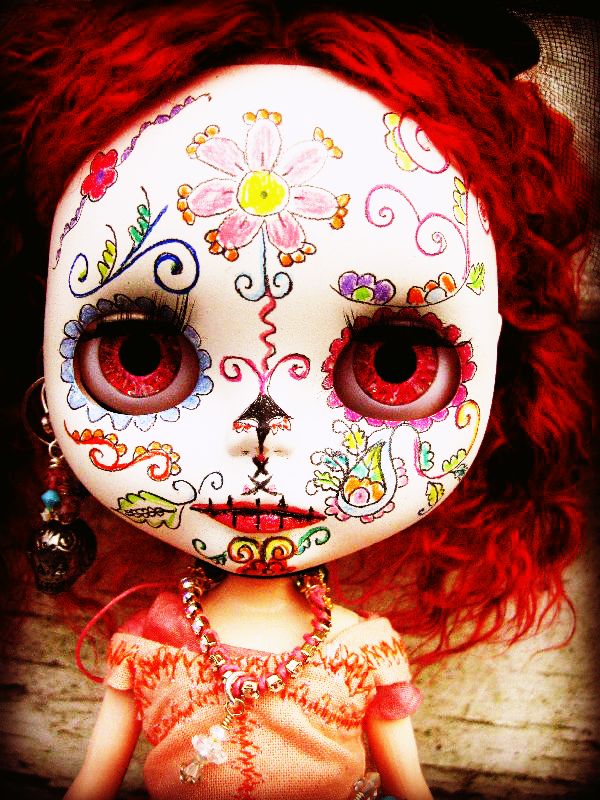 Joan Miller of Joan Miller's Porcelain's great flowered porcelain skull adorns the festive belt and Cynthia Thornton's delightful
Pewter Sugar Skull from Green Girl Studios is one of three earrings worn by the delightful Esmeralda, a Calavera customised Blythe with brilliant festive red mohair, yet a darling sweet personality. I
love
this Blythe and look forward to her auction on Ebay starting today. I am very proud to have made her jewelry and one of her pullstrings, as well as her embellished shoes! FUN!
The dichroic butterfly is signed on the back and if you look closely you can see a Kim Miles
bead on the pullcharm --Wowwwwww! Love Cindy's entirely hand made outfit and look at her
adorable hat!!! I cannot get over being a part of this -- she is so amazing to me!
Oh Esmeralda, I love you more that I can say! --jean xox!!!
BEADBLOGGERS!
Resin Crafts!
This week Carmi showcases a vintage children's reader in a resin filled pendant.
Snap out of it, Jean! There's beading to be done!
Jean has the most fabulous news from Lark publishing--a big gorgeous sale is going on right now, before the holidays! It is a bountiful cornucopia of beautiful books!
About.com Jewelry Making
December's jewelry designer interview focuses on blogger, book author, and jewelry designer Lisa Crone.
Art Bead Scene
An icy Erte illustration provides the wintery inspiration for this month's Art Bead Scene challenge
A Bead A Day
It's giveaway time on A Bead A Day! Comment by Dec. 11 for a chance to win or come back for next week's giveaway.
Beading Arts
Cyndi is featuring quick and easy jewelry projects all month long for your holiday gift-giving, including this special bracelet...sooo pretty and sooo fast!